Tips to insure a "Spook"tacular Halloween this Year.
Oct 19, 2018
by Dr Katie McConnell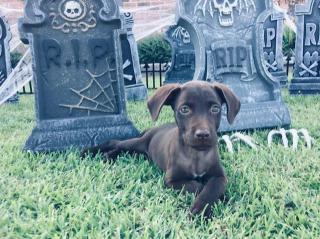 With Halloween quickly approaching, it's important to remember your pet's safety along with all the family fun. A few things to consider include…

1. Chocolate is toxic to dogs and cats. The amount of chocolate that is poisonous mostly depends on the size of the dog/cat and the type of chocolate. Bakers chocolate is the worse type, followed by dark chocolate, followed by milk chocolate, and white chocolate being the least toxic. The size of the dog/cat is also important. It takes more chocolate to make a large lab sick, while a small amount of dark chocolate in a yorkie would be a serious cause for concern. Small amounts of chocolate may cause vomiting and diarrhea. Ingestion of a larger amount of chocolate may cause agitation, increased heart rate, tremors, seizures, or even collapse. If you are concerned that your pet ingested chocolate this Halloween, please call Tchefuncte Animal Hospital at 985-845-7484 for advice.

2. Candy wrappers can be ingested and lead to foreign bodies obstructions in the gastrointestinal tract.

3. Pieces of costumes may be chewed and ingested. Gastrointestinal obstruction is also a concern in this case.

4. If your dog gets anxious when the doorbell rings, it may be a good idea to have someone

Tchefuncte Animal Hospital wishes you a happy and safe Halloween!