Part 2: Heartworm positive, now what?
Aug 24, 2018
by Dr Katie McConnell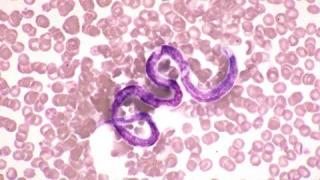 Welcome back Madisonville! Last week, we started a 3 part series on Heartworm Disease. Today, I am going to discuss testing methods. It is recommended by the American Heartworm Society and the American Veterinary Medical Association that all dogs be tested annually for heartworms. This insures early detection of infected dogs and proper prevention recommendations. Many types of heartworm preventives are on the market today. Some are safer than others in heartworm positive dogs. Our recommendations need to be reevaluated annually for the safety of your four-legged friends. There are two main methods for heartworm testing. Each has pros and cons. The stage in the life cycle determines which method is used for testing, but more routinely, they are being used together.

The simplest method for testing is taking a sample of blood and looking at it under a microscope. There you may be able to see microfilaria in the blood. These may be seen if an adult female is in the heart producing offspring. Now, notice how I keep saying "may." This is because microfilaria are not always present in heartworm infected dogs. Reasons this would be include low worm burdens, infection with male heartworms, or immune-mediated destruction of microfilaria in the body. Their presence confirms heartworms, but there absence does not verify an animal is heartworm negative. Screening for microfilariae is often used in conjunction with other methods.
The most common test performed is a heartworm antigen test. This is the test included as part of your annual wellness exam at Tchefuncte Animal Hospital and is usually performed in the clinic. The antigen test detects a substance produced by heartworms. They are the fastest and most convenient way to test for heartworms, but no test is perfect. False positives and false negatives are possible. That is why positive tests are always confirmed with another method of testing. Usually, a positive antigen test is confirmed with presence of microfilaria in the blood. If the results of these two do not match up, then a sample is usually sent to an outside lab for confirmation testing.

It is always recommended that a positive test be confirmed by another method. This practice ensures that dogs are being treated appropriately. The next step in the process depends on the results of the test. If your dogs heartworm test is positive, you may ask "Now what?"

Once a heartworm test is confirmed positive, it is important to assess overall health of the dog (or cat.) We do this by running basic wellness bloodwork and taking x rays of the chest. Most often, we see healthy asymptomatic dogs, so the bloodwork and xrays are unremarkable. Even though this is the majority of cases, it is important to emphasize that these tests serve a major function in preventing treatment complications. Bloodwork helps determine if the use of systemic medication is safe during the treatment process, and radiographs help detect any dysfunction of the cardiovascular system (or heart and lungs.)

Once the results are in, your veterinarian will recommend a treatment plan. Believe it or not, each patient has a treatment plan tailored to their needs and the needs of their owner. As vets, we usually follow a general protocol and adapt changes that may be required. Treating heartworms is a lengthy process that involves many aspects, including testing, heartworm prevention (yes, you must use preventatives during treatment), antibiotics, pain medications, steroids, hospitalization at some point, and exercise restriction. Yes, that's right! Heartworm treatment requires crate rest and exercise restriction. If an owner is unable or unwilling to crate rest their dog, severe often life-threatening complications may arise. This is one of the major factors we assess when deciding how to handle/treat a heartworm positive dog. In the last part of this series, we will discuss treatment options and preventatives. Stay tuned to the blog for more information.